In Darfur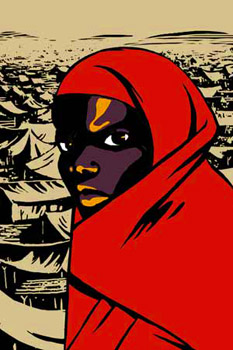 Cover Art by David Polonsky
In Darfur is the provocative account of three intertwined lives at a camp for internally displaced persons In Darfur. The story follows an aid worker's mission to save and protect lives, a journalist's pursuit to deliver a "Page One" story and a Darfuri woman's quest for safety. It is a searing story of urgency and international significance.
Purchase In Darfur from Playscripts, Inc.
Productions / Awards
In Darfur is the recipient of The Guthrie Theater and Playwrights' Center's Two-Headed Challenge 2006 commission under the mentorship of New York Times journalist and Pulitzer winner Nicholas Kristof and developed at the Guthrie Theater, the Playwrights Center Playlabs, Geva Theater's Hibernatus Interruptus and The Public Theatre's New Works Now. In Darfur inaugurated the Public's Lab series in April 2007 for a sold out three week run, and filled to capacity a staged reading at the 1800-seat Delacorte Theater on July 9th, 2007. Simultaneously, on July 9th, the Donmar Warehouse held a reading. The Tricycle Theater held a reading in December 2007, for A Day for Darfur. The play has been produced by Washington DC's Theater J, Atlanta's Horizon, Florida's Mosaic, Canada's Theater Awakening, and multiple benefit readings nationwide.
In Darfur was directed for the Public Theater by Joanna Settle
With dramaturgy by Polly Carl and Mandy Hackett
Cast: Rutina Wesley, Heather Raffo, Aaron Lohr, Sharon Washington, Zainab Jah, Maduka Steady, Ron Brice
Production photos from The Public production
Quotes about the play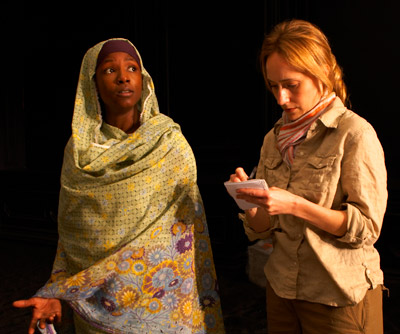 Rutina Wesley & Heather Raffo. Photo by Joy Jacobs.
"Winter's play is an urgent and passionate response to a crisis unfolding at this moment."
—Oskar Eustis, Artistic Director, the Public Theater
"Illuminates and entertains. Winter takes us into the hearts of her characters and swiftly pulls us into their story."
—Mia Farrow, actress and activist.
"'In Darfur' is based on a real case In Darfur's Kalma camp that I once reported on. It's an excellent poignant play."
—Nicholas D. Kristof, New York Times columnist and Pulitzer winner for his commentary on Darfur's genocide.
"A riveting and haunting play."
—Samantha Power, Pulitzer winning author, A Problem From Hell
"A play that forces us to question our moral responsibility to the victims of human rights abuse."
--Lynn Nottage, Pulitzer winning playwright, Ruined
"Urgent and fierce. Timely and Timeless. Unfolds at the cusp of calamity, inching up on genocide and whether to name it or not. Truly a heroic act of playwriting.
--Ari Roth, Artistic Director, Theater J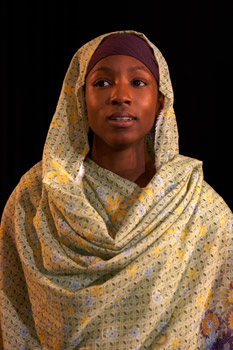 Rutina Wesley. Photo by Joy Jacobs.
Winter's Notes
In 2006, when I wrote In Darfur, I was working as columnist Nicholas Kristof's researcher at The New York Times. On one of his trips to the Chad/Sudan border, Nick let me accompany him.
We slept in aid compounds and underneath the stars of a stunning night sky. We met young children with bandaged bullet wounds and girls who had been raped not 48 hours earlier but told their story because they thought we could help the people of Darfur. We walked through burned and bombed villages, now ghost towns. We were offered tea and food by those who had little of either. We saw overcrowded refugee camps and lines of survivors waiting to enter.
I saw my first human dying, a man—not even twenty—shot down because he was a mercenary Janjaweed, like many. His life came down to two hundred dollars; that's what he'd been offered to kill the leader of his same tribe in a neighboring village.
Tribal divisions, colonization and corruption are complicated to unravel, but halting a genocide is simple. It takes international leadership and a few decisive bold pen strokes. Included in this book are resources for those who are inclined not to remain bystanders while tens of thousands suffer needlessly.
Press: Full Articles
Press: Links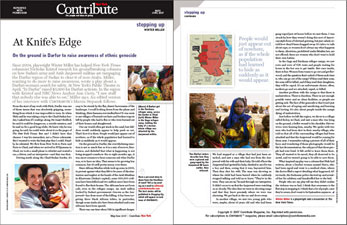 Action, Education and Resources for Darfur
IMMEDIATE ACTIONS AND RESOURCES:
Call 1-800-GENOCIDE to talk to your elected officials about protecting civilians, ending the violence In Darfur, and promoting effective solutions to the crises.
Are you a student? Join or start a STAND chapter at your school. Visit http://www.standnow.org/ to learn more.
Educate yourself on genocide and sign up for urgent action opportunities. Visit http://www.genocideintervention.net and http://www.enoughproject.org to learn more.
BOOKS:
Not on Our Watch: The Mission to End Genocide In Darfur and Beyond by Don Cheadle and John Prendergast
Darfur/Darfur: Life/War edited by Leslie Thomas
Darfur: a New History of a Long War by Julie Flint and Alex de Waal
A Problem From Hell: America and the Age of Genocide by Samantha Power
The Translator: A Tribesman's Memoir of Darfur by Daoud Hari
Darfur Diaries: Stories of Survival by Jen Marlowe, Aisha Bain and Adam Shapiro
Tears of the Desert: A Memoir of Survival In Darfur by Halima Bashir and Damien Lewis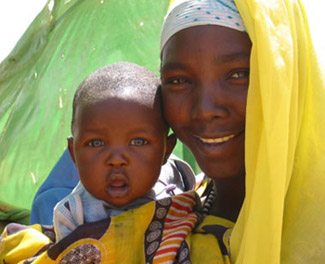 Mother & Child, Farchana IDP Camp, Chad. Photo by Winter Miller.
DOCUMENTARIES:
"The Devil Came on Horseback" directed by Ricki Stern and Annie Sundberg, featuring Brian Steidle
"Sand and Sorrow" directed by Paul Freedman
"Darfur Now" directed by Ted Braun
WEBSITES: